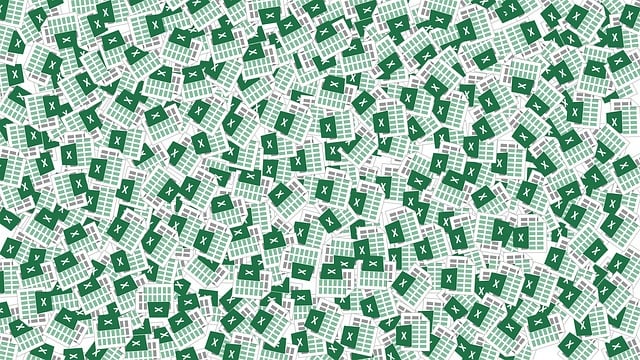 Web scraping is crucial in today's world. With such a wide range of uses and applications, it is of utmost importance in any field of work that requires data. So it becomes important to learn how to scrape, so today, I shall teach you how to scrape data from websites to Excel as a beginner in some quick and easy steps.
So let's begin!
What is Web Scraping?​
Web scraping is one of the most popular methods of data extraction. It is quintessential in today's world as it offers a straightforward solution for anyone looking to collect and analyze data. While scraping is done with scrapers and bots, it can be done manually too. Yes, it is a relatively slow process, but it comes in handy when handling data on a small scale.
So today, we shall learn how to scrape data from websites using Mircosoft Excel.
What is Excel?​
Microsoft Excel is software from the Microsoft Office line of tools and software. Excel handles data using spreadsheets and functions, and formulas. It has a wide array of industrial uses and applications and is often the go-to solution for anyone looking to perform any sort of data-related task.
Scrape Data From Websites to Excel: Follow these steps!
How to Scrape Data from Websites to Excel: 5 Easy to Follow Steps!​
If you are a beginner and looking to scrape data on a website to Excel, look no further. T his is the ultimate guide for you. Just follow the steps I mentioned below, and you'll be able to scrape data to excel from any website you want. As long as it is legal.
To begin with, you need to decide on the website and data you wish to scrape. For this instance, I am going to scrape Graphics Card price details as I am deciding to buy a GPU for my PC. I chose the site https://www.tomshardware.com/news/gpu-pricing-index as they are one of my go-to sites for anything PC related. So now follow these steps:
Step 1: Prepare Excel and Specify Website URL​
First of all, you need to have Microsoft Excel installed, now open it and go to the Data option on the Toolbar (Marked as 1) and then select From Web option on the ribbon (Marked as 2).

Step 2: Load Website Data to Excel​
Now click on it, and a pop-up window will appear, paste the URL of the website there and check on Basic; now click on OK.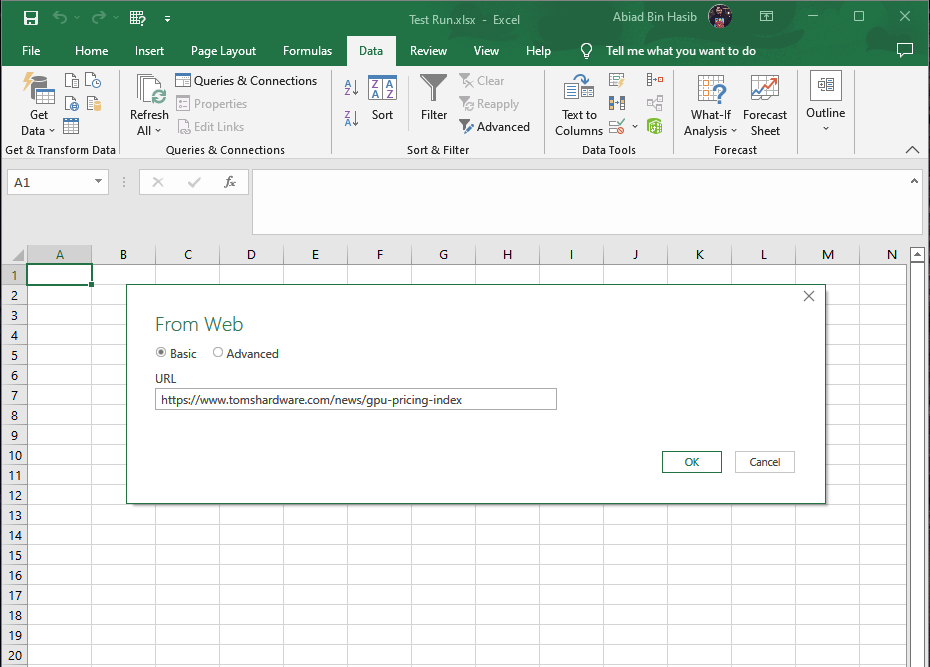 However, if you decide to go to Advanced settings, you can add advanced URL options and parameters.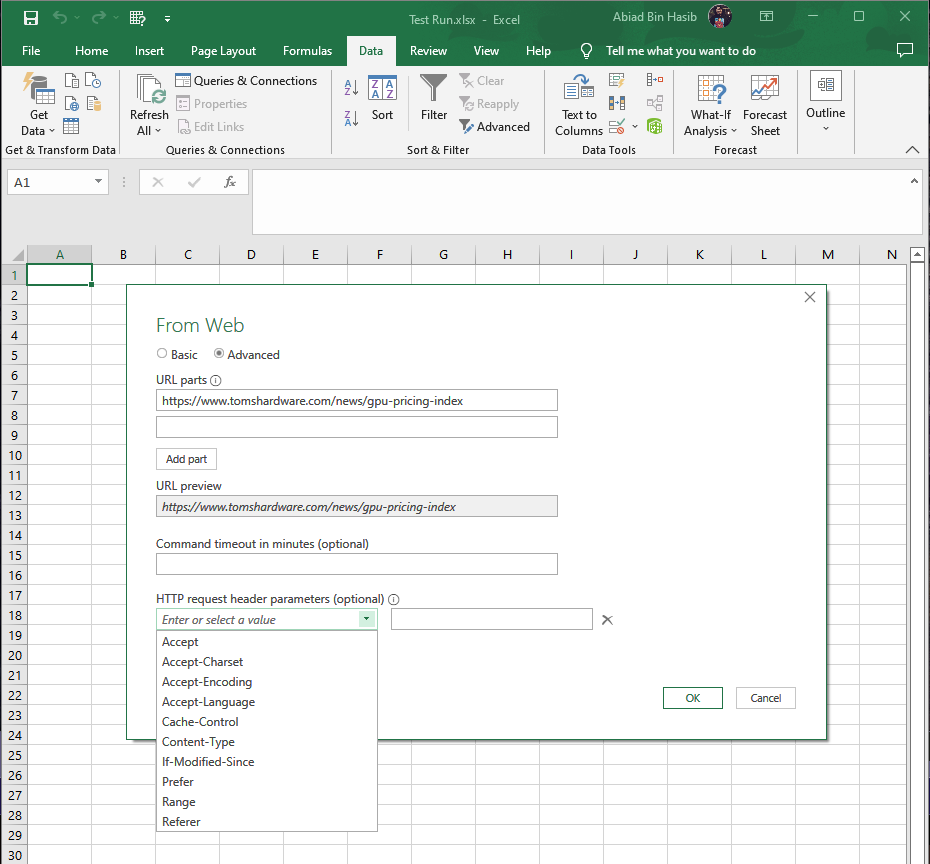 But for this instance, I am going with the regular Basic option.
Step 3: Specify Information You Want to Scrape​
Now, after all this, another window will pop up, and it will contain the tables and info available o that URL, and you need to select the information you wish to extract. I wanted the details of the high-end GPUs, which are the Nvidia Ampere and AMD RDNA2 GPUs options, so I selected that and clicked on Load.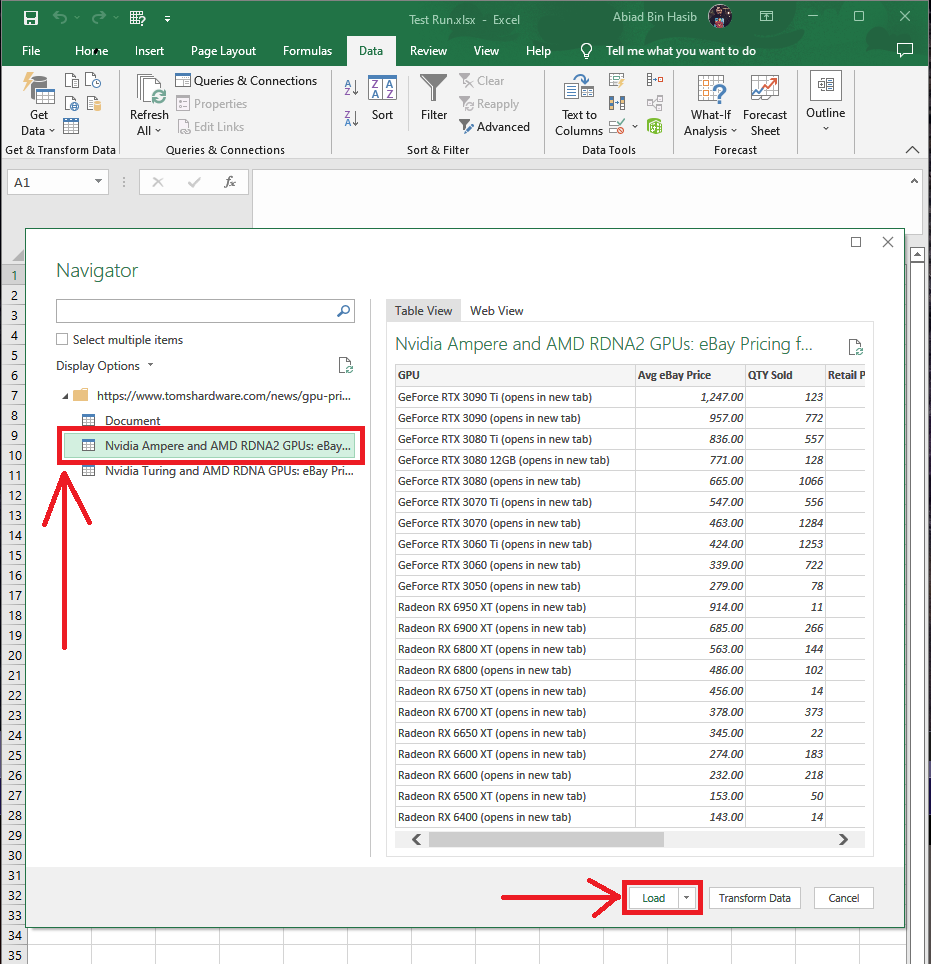 You can also select the Transform Data option, which will take you to the query editor. There you can edit the table however you want to and make whatever adjustments you need to before you insert it into the Excel sheet.
It will look like this: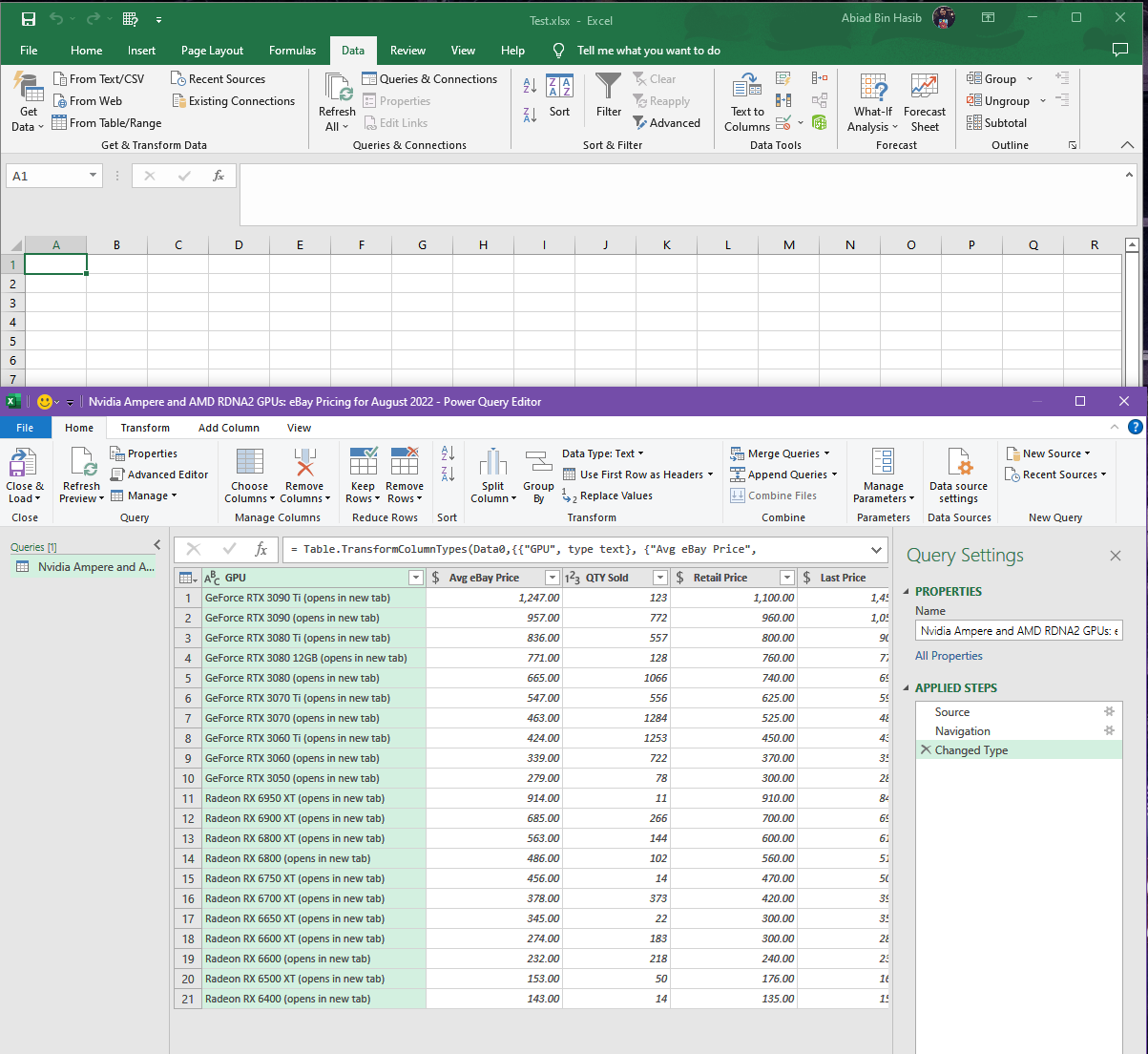 Don't worry if you didn't edit it all now, as you can always edit it afterward, even after loading it.
Step 4: Check Results​
Now, after everything has been done, it will look like this: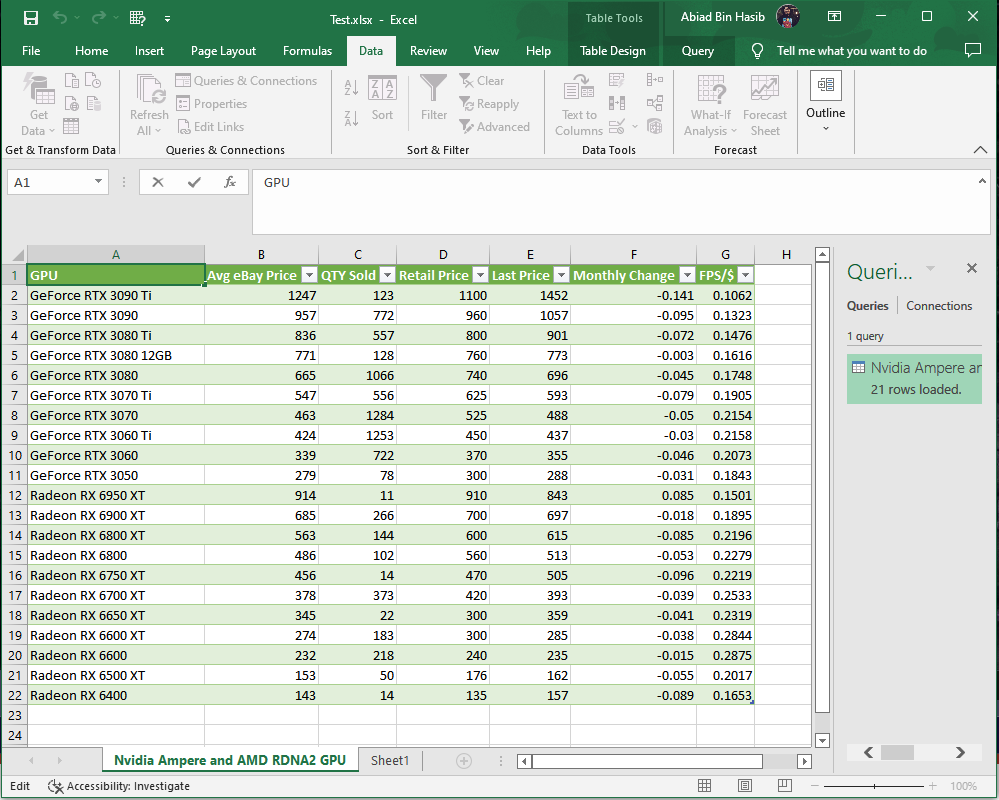 Step 5: Setup Auto Update (optional)​
There is one last step remaining; this is optional, but you can do it to ensure that the data is always up to date. You can do it by following these steps quickly. First, click on the drop-down menu on the Refresh All option and click on Connection Properties just like illustrated here: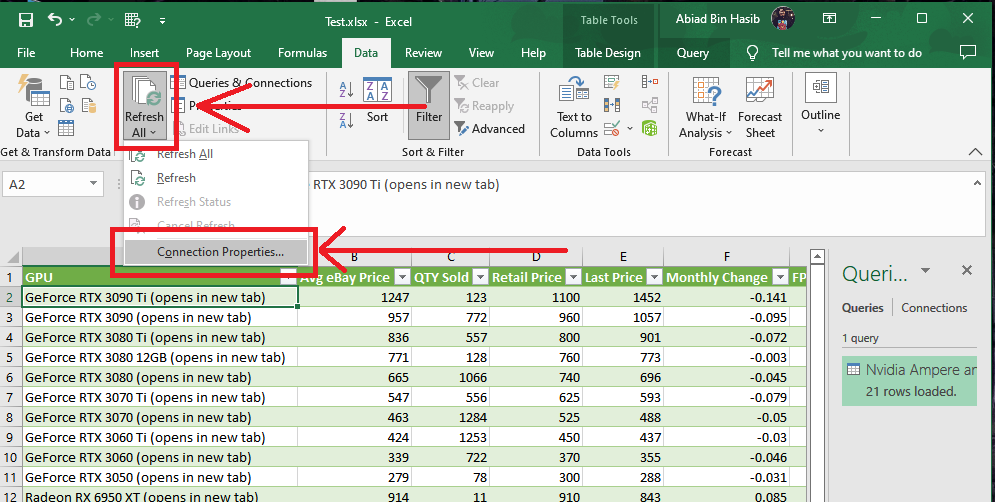 Then on the popup window, select the options you feel you need and then click on Ok. It should look something like this: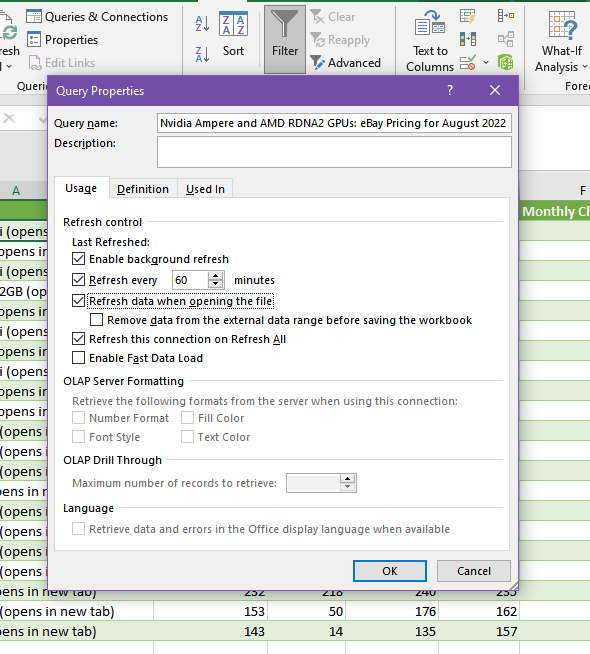 This step ensures that all the data is updated whenever you check the file as long as the website posts those updates. This comes in handy in all sorts of cases so I strongly suggest that you do this step even though this is optional.
Also, you must do this step if you are working with data of which the values keep changing.
And you are done! Your end table should look something like this: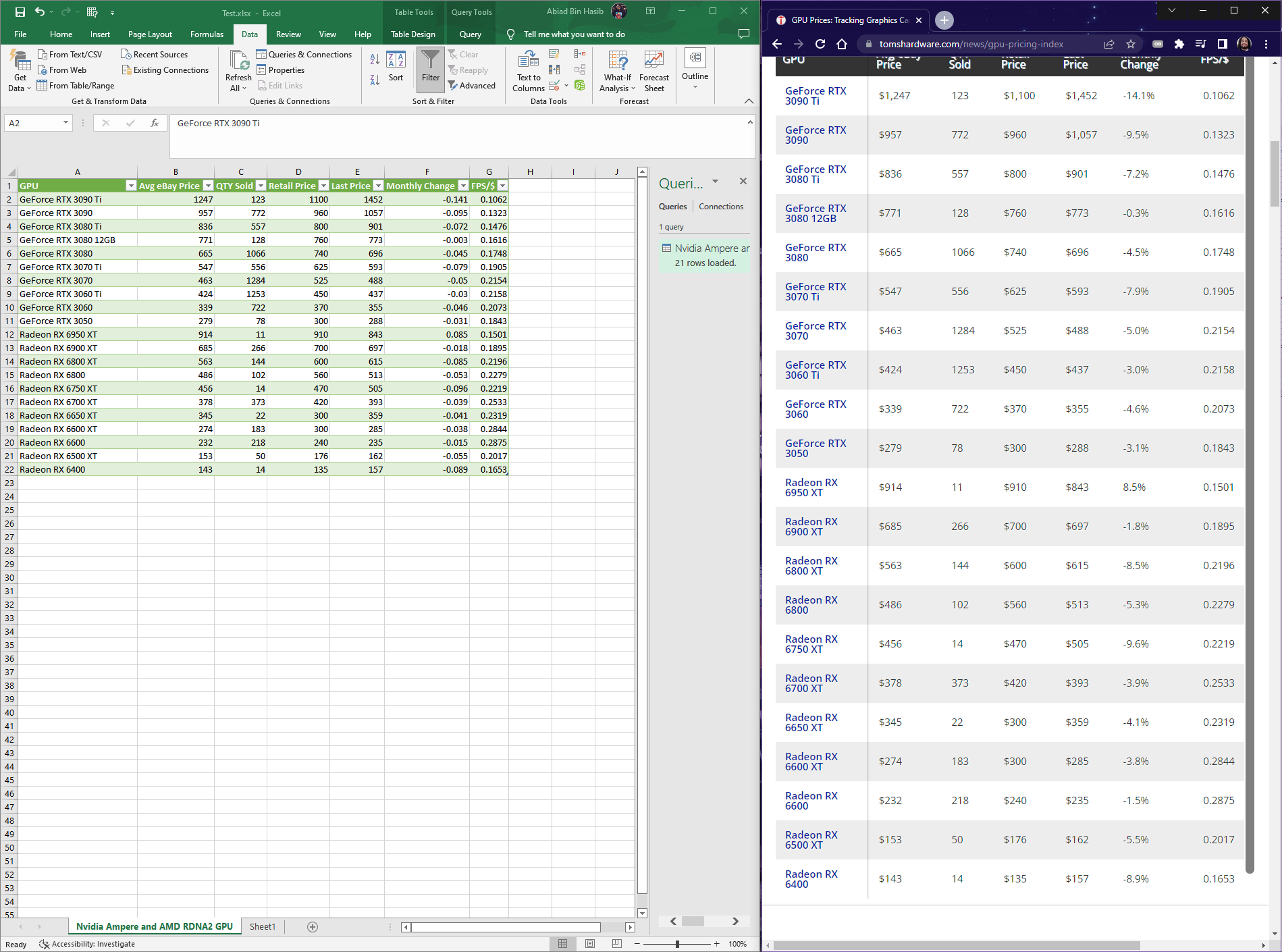 This is a side-by-side comparison between the table I created and the table on the website directly. As you can see, both are exactly the same and show information on the GPU prices in detail.
Is Web Scraping Legal?​
A thin line has always been distinguishing between ethical and unlawful web scraping practices. Web scraping may sometimes be seen as unlawful in particular instances, even though crawling and scraping are both generally allowed. Scraping websites to get publicly accessible data is not illegal since everyone is allowed to utilize such data.
However, online scraping may be prohibited if it violates a website's TOS or if personal data is collected and used without permission. We should constantly adhere to and uphold web scraping best practices so as to comply with the rules of data privacy.
How to Avoid Illegal Scraping?​
You can easily avoid illegal scraping by avoiding:
Scraping without permission and consent.
Personal Data
Violation of General Data Protection Regulation or GDPR.
Violation of Computer Fraud and Abuse Act or CFAA.
Violation of California Consumer Policy Act or CCPA.
Any website that requires logging in.
Copyrighted data.
To Conclude​
Web scraping is one of the best ways of data extraction undoubtedly. However, since data is sensitive, you must always ensure that you are maintaining web scraping best practices and are maintaining scraping laws.
Breaking any laws while scraping may even result in imprisonment and fines, so always scrape responsibly. Hopefully, you'll put today's quick and easy lesson to good use and scrape maintaining the best practices.
Happy Web Scraping and don't forget to use proxies while data extraction 🖥️